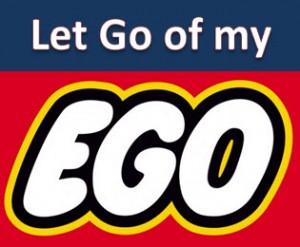 I started working on building a powerful and unbelievable 2015 at the start of the year.  On my previous blog post, I listed some things I would work on for this year.  I have been keeping a nightly journal of three distinct areas: 1) What have I learned? 2) What successes I had that day & 3) What did I do to serve others?
As I was thinking about these things today, I realized that I need to also work on keeping my ego in check.  I regularly try to remind myself of this but I am sure I forget way too often.  So this year I am making it my intention to "Let go of my ego!"
I pledge this year to not take things too personally as well as becoming aware when my ego shows up.  It certainly sounds easy but I believe through awareness I can make a major positive shift in my life this year.  I believe that we should always be working on ourselves but also not to overdo it.
If you ask these three questions each night to yourself and journal it, amazing things will happen in your life:
What have I learned today?
What successes have I achieved today? (sometimes just getting out of bed is an achievement!)
What did I do to server others today?
Let me know what you think and if you start asking yourself these questions.  Here's to a breakthrough in 2015!
Love and gratitude,
Bill
https://idontstink.com/wp-content/uploads/2014/02/ids_facebook.jpg
0
0
Bill King
https://idontstink.com/wp-content/uploads/2014/02/ids_facebook.jpg
Bill King
2015-01-03 15:27:39
2015-01-03 15:27:39
Let Go of My Ego