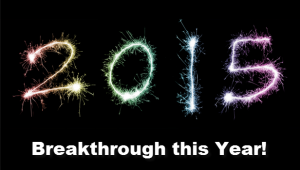 2014 is finally over and it got me thinking. What would 2015 be for me? Do I have a choice in what I experience? Of course I do and you do too!
For the past week I have been thinking about resolutions and what new things I want to experience in 2015. Benjamin Franklin once said, "If you fail to plan, you are planning to fail!" That quote has been on my mind for the past week. It got me thinking about what am I planning for 2015.
Here are a few ideas I came up with:
Create a "Success & Knowledge Journal" – This is a journal that I will have by my bedside and I will journal each night something that I learned that day. At the end of each month, I will review the items on the list and pick out the top 3 items. From that list, who knows what I will do but I thought it would be fun to make sure to learn something new each day.
Acknowledge my Successes – Each night, I plan to list at least one success of the day. Acknowledging our successes allows us to experience more successes because we are constantly focusing on what we have achieved.
Create a "One Word 2015 Summary" – I have decided to pick one word that will summarize my 2015 year. The word for me is "Breakthrough."
Practice Visualization Daily – With my One Word 2015 Summary, I am creating an electronic vision board. This vision board will be titled "Breakthrough" I will leave one section of it open so I can put the top 3 successes of the month. A new vision board will be created each month as a result.
Spend more time with family – It is easy for us to get so focused on our goals and sometimes, it can control us. I plan a year of balance and success.
What is your One Word 2015 Summary? What do you plan on doing in 2015 to make it better than 2014? The key is to move forward and I look forward to helping you achieve your goals.
With gratitude and peace!
Bill
https://idontstink.com/wp-content/uploads/2014/02/ids_facebook.jpg
0
0
Bill King
https://idontstink.com/wp-content/uploads/2014/02/ids_facebook.jpg
Bill King
2015-01-01 15:05:18
2015-01-01 15:05:18
2015 New Beginnings