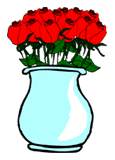 If you have been following my previous posts about the post office, what happened today will be of no surprise.  In case you haven't been following, here's a quick summary.  For as many years as I can remember, going to the post office has been a pain for me.  Long lines, long wait times, and often unfriendly attendants to boot.  Well, I decided that if it is true what I teach, "What you think about, you bring about", then I should eliminate those problems.  So, I decided to do that.  Picture nice short lines, friendly attendants, and an overall good experience.
Today was no different.  I needed to drop off something at the post office at lunch and the second I thought about it, my thoughts said something like this: "Ouch! This is one of the worst times to go.  They will be shorthanded and I could end up wasting a half hour there."  Then I changed my thoughts by picturing an empty line and to be completed in less than 3 minutes.  I focused on all my previous successes and was in a good mood when I arrived. 
Sure enough, two of the normal three attendants were on lunch break much as I originally thought.  Imagine my grin when there wasn't a single person in line.  SA-WEET!  In and out in less than 3 minutes!  Once again, as I turned to walk out a line was forming.  Not a big line but at least 4-5 people in line.  I tell you, it happens EVERY time now.  What a SWEET change to eliminate that old STINKIN' belief that the experience is always negative.
I'm not sure you believe these "coincidences" I have had at the post office and that's OK.  I'm not quite sure I understand 100% myself, and I really don't have to.  All I know is that this happens every single time since I changed my thoughts.  I can't say exactly what cosmic forces are going on behind the scenes to make this happen but I get the exact same results 100% of the time when I change my negative thoughts to positive. 
Imagine how many times we put limiting beliefs on ourselves unnecessarily.  Not anymore!  Change your awareness.  Focus on what you want to happen.  Then reap the rewards of success.
With peace and gratitude,
Bill
https://idontstink.com/wp-content/uploads/2014/02/ids_facebook.jpg
0
0
Bill King
https://idontstink.com/wp-content/uploads/2014/02/ids_facebook.jpg
Bill King
2010-06-25 21:00:48
2010-06-25 21:09:58
US Post Office Sweetness