This area is dedicated to providing parents and guardians with tools to help teach children the benefits of positive thinking.  Below is a list of items parents can use to accomplish this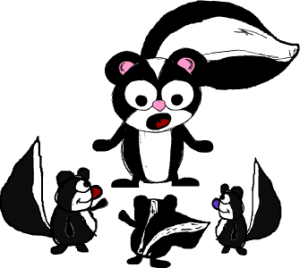 goal.  There will also be new and unique items added regularly so come back often!
Daily Positive Points delivered every weekday
Monthly Family Activities to engage your entire family
Monthly Positive Affirmation Screensavers
Guest Articles from some of the top names in parenting
Excerpts from the soon to be released new book for adolescents, STINKIN' THINKIN' STINKS!
Family Kindness Challenges
Podcasts
Archived Newsletters
Archived Radio Interviews
New Article Posted! See link below under Affirming Articles to access "The New Stimulus Package" (Kindness)

New Bullying Page Built!
In an effort to start consolidating all the stop bullying content, I have built a special page.  Although I haven't consolidated it all yet, there is information waiting for you there.  Click here to access this new resource page.  On that page, you will find Articles, Videos and Websites that tackle the issues of bullying.  Check it out when you have a minute.  Added 3/2/11, a new Anti-Bullying video that was created by middle schoolers.  Wow!  What a great job they did.
BULLYING – February's Positive Pathways Newsletter tackles this topic.  While doing research for the newsletter, I found some very interesting articles and blogs.  Here are two of them for you:
1) Click here to acces the first artcle – Dealing With Bullies.
2) Click here to access the second article – End the Bullying.  This actually has several article and excellent content.
3) Click here to access the third article – Cyber Bullying. NEW!
eBooks
The Building Blocks of Success – Click here to access the short eBook.  Inside the book, it provides exercises and tips to create  success in your life.
Here's a new idea!  How about giving out Kindness Coupons?  What a great way to get eveyone interested in Kindness.  Click here to dowload the Kindness Coupon PDF.  This document was designed to be printed on a standard business card form.  You can also print them on construction paper and cut them out.  The choice is your.  But, whatever you do, get them printed and start handing them out to others.
Book Excerpts
Click here to access the book excerpt section of the website.  Remember, more book excerpts will be coming soon!
Fearless Focus
Click here to access the Fearless Focus area.  In this section, there will be monthly exercises to help you focus on the good that is in your life and eliminate the negative STINKIN' things that set you back.
Affirming Articles
Click here to access the article section of the website.  There will be regular updates with new articles so check it often.
Kindness Challenge
Coming in January so keep checking back.  I thought it would be a great idea to have a challenge to start off the year.  Look for details here or on my blog, the kindness challenge barrel, Facebook and Twitter accounts.
Archived Newsletters
Click here to access archived newsletters.  All of them have a theme and can be read very quickly.  New POSTS!  Check them out!