Earlier this week I had a Daily Positive Points email that stirred up a lot of positive feedback.  See below for the full Daily Positive Points.  Thank you to everyone who sent me comments, feedback and posted on Facebook. Here was the email:
Daily Positive Points – From 4/15/10
Today's Message
There are two basic ways we can live our lives. We can be positive or we can be negative. There is really no middle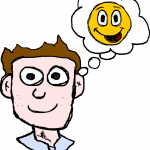 ground here. Sure, some days we will struggle and have a lousy day. However, if we have more positive thoughts than negative ones, we are living some kind of SWEET life. We also get to experience life as a miracle and will experience happiness more often.
 Today's Quote
"There are two ways to live: you can live as if nothing is a miracle; you can live as if everything is a miracle." Albert Einstein (German born American Physicist, Nobel Prize for Physics in 1921. 1879-1955)
I wanted to take a moment and expand upon it just a bit. The idea came to me as I was thinking about positive and negative thinking. My believe is that people are either more positive or more negative. That is where the idea for Daily Positive Pointscame from. I believe that if we consciously try to be more positive than negative about life, chances are that we will. Certainly things happen during that day that brings up negative thinking and there really isn't anything we can do about it. However, the key is to not stay in that negative state for very long.
The goal of my websites is to help kids, young adults and adults become more aware of negative thinking. As we travel through life we are presented choices. We can choose to be positive most of the time or we can choose to be negative most of the time. Sometimes we are not aware of how bad our negative thinking has gotten. This is where awareness comes in. When we become aware of negative thinking we can then do something about it. Hopefully we will choose to eliminate the negative thoughts or change it to something positive.
With loads of gratitude,
Bill
https://idontstink.com/wp-content/uploads/2014/02/ids_facebook.jpg
0
0
Bill King
https://idontstink.com/wp-content/uploads/2014/02/ids_facebook.jpg
Bill King
2010-04-17 11:25:50
2010-04-17 11:29:41
Positive Thinking