Auto-motive Kindness Opportunity
Isn't it interesting that when your mind is focused on something you get to experience it almost immediately? Well, it sure happened to me this morning. Yesterday I issued the "Give A Little Love Kindness Challenge" so opportunities to offer kindness is my focus right now. I had a great opportunity to offer kindness and as I reflected on it, I realized there were some similarities.  Let me explain.
This morning I went to work out at the club at 6:00 AM. I finished up in time to catch my wife before she left for work but on the way home something changed that. On the opposite side of a red light, a lady in a truck was stalled. She got out of the truck, let people know behind her that the tuck wouldn't start. When I got the green light to turn, I pull into a bank close by to see what I could do to help. As I approached her, I noticed that she had a toddler in a car seat and was worried with him being in the stalled car. I told her that I could try to push it to a side street to get it off the busy main 6 lane road.
She was very grateful someone stopped to help her but it got better. As I was standing there I saw a car pull over. 3 Hispanic guys came running over to help. With their help, we were able to push the car into the gas station and out of harms way. They drove off and we thanked them profusely. It didn't stop there though. The lady did not have her purse with her so she did not have a phone. I let her borrow mine but didn't connect with anyone. I then got her truck to start and offered to follow her home to make sure she and her child were safe if it stopped running again.  Then I noticed it was spraying transmission fluid. Smoke was pouring out but I also noticed it was running hot. I told her it was too much of a risk to try to drive it home.
I then offered to give her a ride home. She accepted so I went into the gas station to let them know that we were leaving it there but someone would check on it later. I could tell that the lady was about to lose it so I let her know that I had been in the same situation many times. I let her know that my wife's car had broken down before and had to rely on strangers to help when I couldn't get there. We talked all the way back and upon leaving, she said, "I cannot thank you enough. I don't know what I would have done if you didn't come along. I wish I had something to give you." I immediately said that even if she had, I wouldn't have accepted it anyway. I told her that maybe the truck needs a little TLC and would be up and running in no time.
What I find interesting is that another time when I issued a Kindness Challenge, I had a kindness opportunity involving a car.  It was a flat tire that time. (See that blog post by clicking here) The funny thing is that it was also auto related.  I now know where to go to practice "automotive" kindness and maybe you can go there too. It is at the Shell gas station on 2499 and Sagebrush. Maybe I will see you there!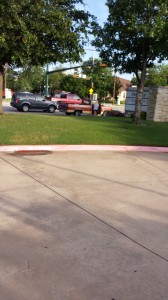 With peace and kindness,
Bill
https://idontstink.com/wp-content/uploads/2014/02/ids_facebook.jpg
0
0
Bill King
https://idontstink.com/wp-content/uploads/2014/02/ids_facebook.jpg
Bill King
2014-06-24 08:50:16
2014-06-24 08:50:16
Auto-motive Kindness Opportunity